Quality Home Phone System
Installation - Guaranteed
Transform the way you stay connected with your loved ones in Los Angeles. Get Intellihome's home phone system installation service today and make sure that the ones you care about are only a call away! Don't wait any longer – take action on your home phone security now with Intellihome!
Enjoy the Convenience of Home Phone System Installation from Intellihome
Don't wait – take advantage of the opportunity today to upgrade your home phone system in Los Angeles with Intellihome's expert installation services. Enjoy crystal-clear reception, reliable call quality, and improved customer service at unbeatable prices! Let us make sure your home phone system installation is done right so you start benefiting from all that Intellihome has to offer.
Professional Home Phone System Installation At Your Fingertips
Intellihome provides top of the line, phone systems for home installation, in Los Angeles. Our phone systems offer a wide range of features and advantages, equipped with advanced HD Voice technology, which ensures that you and your family are always connected with crystal-clear sound. All of our phone systems come with state-of-the-art encryption and secure data transfers, so you can rest easy knowing that your conversations are safe and secure. ntellihome's expert technicians make installation of your home phone system quick and easy, so you don't have to worry about any complicated setup. Our phone systems can be easily scaled up or down, depending on your needs, and can be easily expanded with additional features.

Our team of experts are on hand 24/7 to answer any questions you may have, so you can be sure your phone system is always running smoothly. With Intellihome, you can be sure that you are getting the best home phone system in Los Angeles.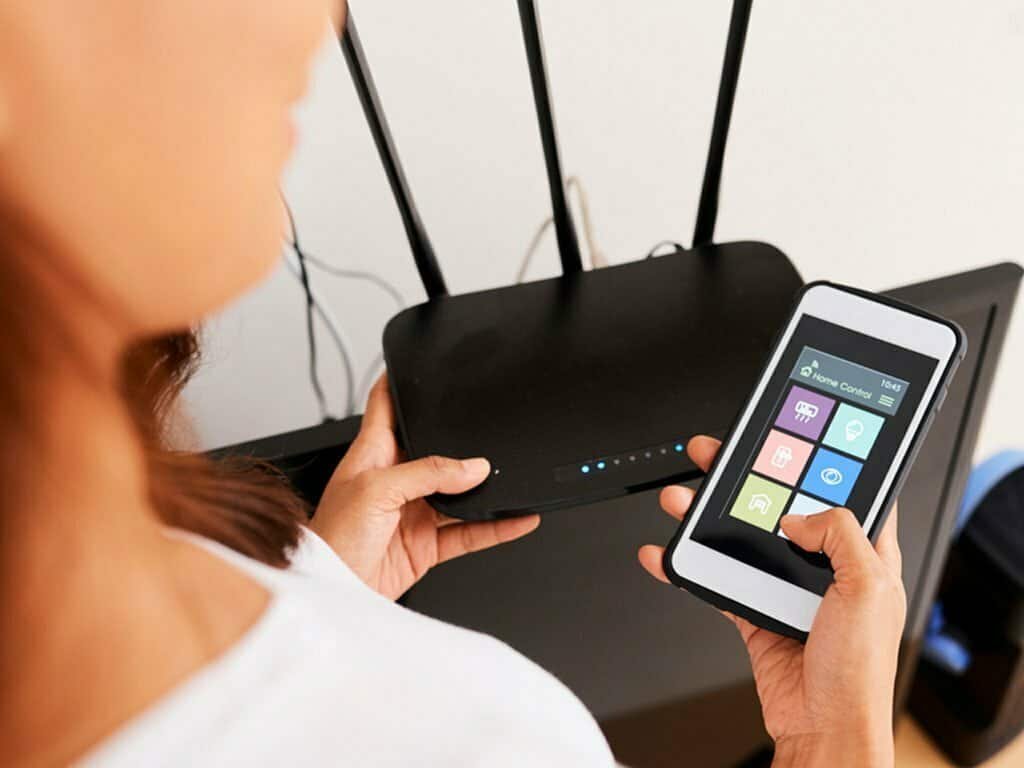 Get The Most Out of Your Communication With Our In-House Phone System
Intellihome's in-house phone system installation in Los Angeles is an excellent investment for homes. By using Intellihome's portable phones for home, you can get the most out of your communication capabilities, allowing you to stay in touch with family, friends, and colleagues more efficiently. The system's advanced features such as call forwarding, voicemail, and conference calling ensure that you never miss an important call, even if you are away Moreover, the system is easy to install and manage, and Intellihome's expert technicians are available to assist you with any installation and maintenance needs. By choosing Intellihome's in-house phone system, you can enjoy reliable and convenient communication that is tailored to meet your specific needs.
Intellihome offers a range of smart home automation services, with our cutting-edge technology and expert team, we help you transform your home into a modern, efficient, and secure living space. Take a look at our extensive portfolio!
At INTELLIHOME, we work with only the best partners. If you're looking for the best equipment for your smart
home or home theater, give us a call today!
Intellihome combines passion and knowledge to design state of the art home & business audio/video systems.
Read reviews from our customers to know more.
Talk to our expert and bring your
vision of Smart Home to Life
Let's Elevate your Home
space like a pro